December 6th, 2012
I just had a particularly hectic month of travel, after a year of a lot of travel. I'm still trying to assimilate my recent sojourns, and thought perhaps this slide show with animated map insert would help me.
Now I'm trying to get back to work. There's all kinds of stuff going on here. Some very kind, anonymous person from zip code 10003 sent me this beautiful Limited Edition Club copy of Colette's novel Break of Day. It's in a handsome slipcase and was published in 1982.
It's numbered and signed by the illustrator, Françoise Gilot. In studying the colophon, I just learned that it was printed at Wild Carrot Letterpress in Hadley Massachusetts! Wow! That's wild indeed. In 1985 I worked in the same building as Wild Carrot, in the food bank upstairs, where I basically did manual labor and on my breaks I'd peek with great longing through the Wild Carrot doorway and wish that I had a job there instead. They had these big old cast-iron printing presses and beautiful posters on the walls and trays and trays of type. Well, whoever gave me this book (and I have a possible idea of who it might be), thank you very much.
Are You My Mother? just made it onto the New York Times 100 Notable Books of the Year. And also Time put it on their list of the ten best nonfiction books of the year. That's very cool. Another graphic work, Derf Backderf's creepy My Friend Dahmer is on the nonfiction list, and Chris Ware's gob-smacking Building Stories is on the fiction list. It's cool to see so much graphic narrative on these lists.
(As I write this I'm watching an episode of Girls on HBO, the one where Hannah's boyfriend Adam is hanging out with all the lesbians at a party. The actress who plays one of them, Tako, plays my college girlfriend in Fun Home the Musical. Her name is Roberta Colindrez, and she's really great!)
Here's a picture from the event I just did in Toronto. I was part of a panel in honor of Elisabeth Young-Bruehl, a psychoanalyst who died suddenly one year ago. She was just beginning to edit the collected works of Donald Winnicott. Her last book, Childism: Confronting Prejudice Against Children, was published posthumously this year. That's Raffi, the children's musician on the left. Elisabeth's partner, Christine Dunbar in front, holding the book. Heather Weir, a Toronto psychiatrist, and the psychoanalyst and philosopher Donna Orange. And in front of me, Dominique Browning. Elisabeth was Dominique's mentor since she was a student at Wesleyan.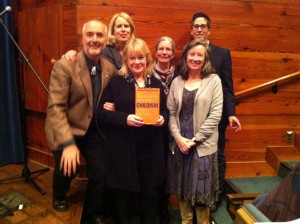 Okay, one more thing. Check out Ellen Forney's amazing new graphic memoir, Marbles, about living with bipolar disorder.