Blog
May 6th, 2021
While it's lovely to get to talk to Terry Gross, and to have my book written about in The New Yorker, I have to say I am super excited to get a write-up on Outside magazine's website. I've been reading Outside for years, since the olden times when it was a higher-brow version of Men's Health, all bros skiing off cliffs. Now they actually have a lesbian columnist, Grace Perry, and I love what she says about The Secret to Superhuman Strength.
April 30th, 2021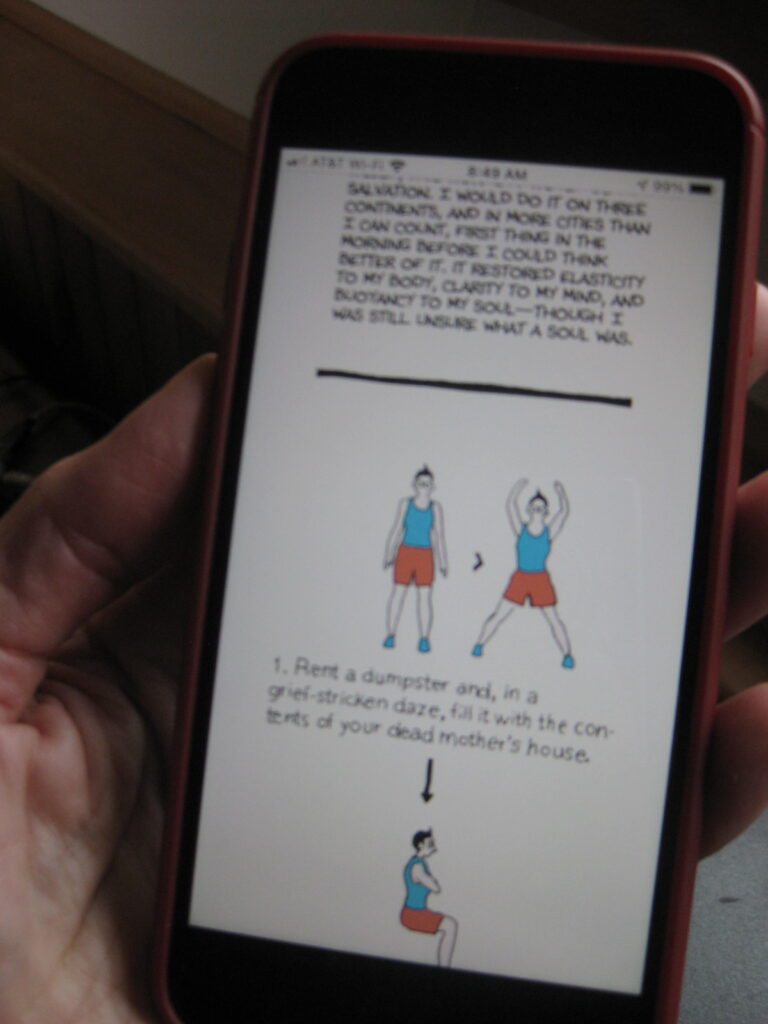 The New Yorker has this excerpt from The Secret to Superhuman Strength up on Daily Shouts. I am entranced with the way it looks on my phone.
Also, there's a hilarious prose piece by Roz Chast, with whom I will be launching my book Tuesday night at the (virtual) 92nd St. Y. She discusses the terms people use for those meals when they're using up leftovers. In our house, it's "pantry party."
April 26th, 2021
I'm doing a bunch of online events for my new book, The Secret to Superhuman Strength, starting next week. I hope you can come to one!
May 4, 7 pm 92nd Street Y with Roz Chast
Tickets here
May 5, 7:30 pm ET Philadelphia Free Library
Tickets here
May 6, 5 pm ET West x Midwest with Cheryl Strayed
Register here
May 7, 6 pm ET City Arts & Lectures with George McCalman
Tickets here
May 10, 7 pm ET Brookline Booksmith/Wilbur Theatre with Stacy Schiff
Tickets here
May 11, 7 pm ET Chicago Humanities Festival with Nicole Eisenman
Tickets here
May 12, 7 pm ET Left Bank Books with Dani Shapiro
Details here
May 13, 8 pm ET Librairie D+Q and The Beguiling (Canada)
Watch here
May 19, 5 pm ET Scripps College with Ann Friedman
Tickets here
April 21st, 2021
In which I explain a bit of the concept.
It's always a strange experience to hold in my hands the freshly printed copy of a book I've been laboring over for years. The realization that I can no longer make any changes is a bit confounding. The finality of it! Another nail in the coffin. What's done is done. And of course, now what?
Well, I won't have time to worry about that just yet given the barrage of interviews and podcasts I'm doing to publicize the book. And soon I will post here the glamorous book tour events that I will be doing virtually from my basement.
I'm sorry to hawk the book one more time, but I must do what I can to get people to pre-order. If you are so inclined, here are some places where you can do it. The Strand has a lovely special page up for it and is selling signed copies. And you can also get it from your local independent bookstore via Indiebound. And of course all the other places.
April 21st, 2021
Here's another of my instructional videos. It is indeed snowing here in Vermont today on April 21st, but I made this a month ago.
April 12th, 2021
Okay, first of all, I am BESIDE MYSELF to see so many of the old gang back here! I'm really touched to hear from you all again, and delighted (but not surprised) that it took about ten minutes for the Maoist Orange Cake to crop up. And hard on its heels, the Trotskyist Key Lime Pie.
I just listened to a really great episode of the Slate podcast Working, in which June Thomas had a conversation with Joan E. Biren (JEB) about the recent reissue of JEB's groundbreaking 1979 book.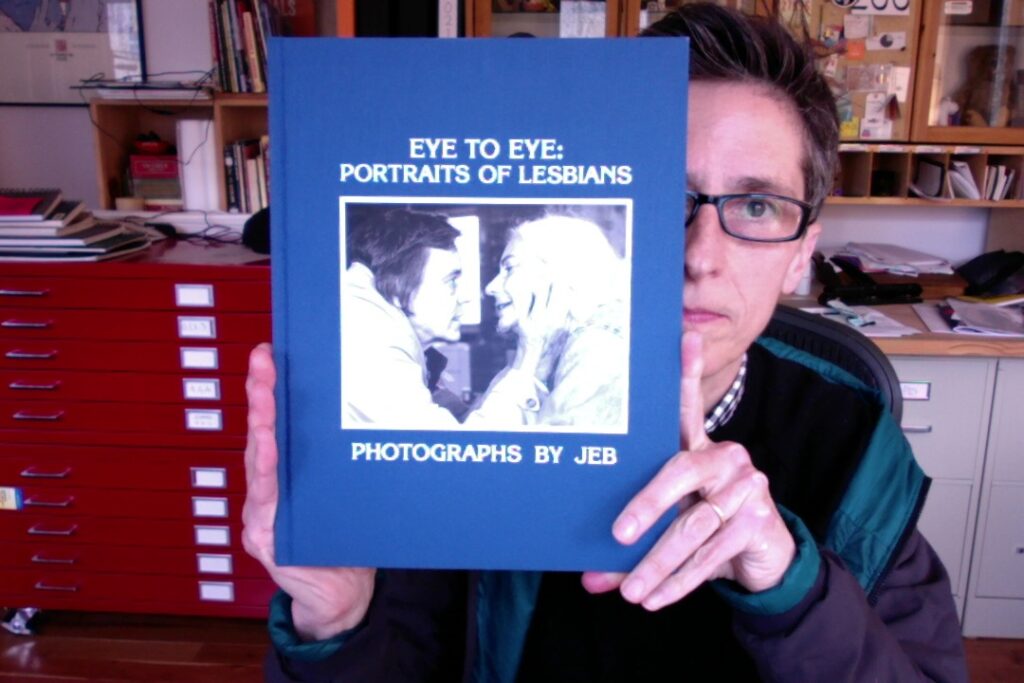 JEB's been doing a lot of events recently, including one with me a couple weeks ago for the bookstore Women and Children First. (Virtually, of course.) But I feel bad that I didn't ask her better questions. June does a great journalistic job of getting to the heart of things, asking JEB what the process of taking the pictures and making the book was like. Definitely worth a listen. (And if you're a Slate Plus member, there's an added segment that's worth the price of a Slate Plus membership–it involves counting penises.) Anyhow Eye to Eye was a hugely formative book for me as a young dyke, so it's nice to see it back in print and getting some attention.
April 10th, 2021
The Secret to Superhuman Strength #10, another in my series of instructional videos.
Many eons ago, before facebook wrecked everything, there was a lovely, lively little community of people who gathered here on this blog. I'm going to engage in a nostalgic experiment and turn the comments back on. They will be moderated, as before, by my friend Mentor. But they will eventually get posted as long as they're not rude, or spam, or otherwise disruptive.
April 9th, 2021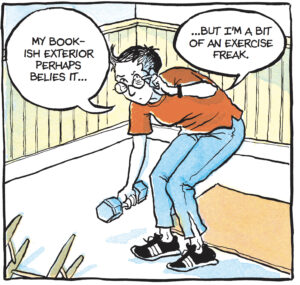 My new book, The Secret to Superhuman Strength, will launch on May 4. But you can pre-order it at any of these places. I'm sorry to be flogging it in this flagrant manner, but pre-orders are apparently very important in the book world these days.
Bunns and Noodle Barnes and Noble is offering signed copies here.
Here's the Indiebound link. Indiebound, in case you don't know, is a great way to order from your local independent bookstore.
If you want to buy from a women's bookstore, here's the link to it on Women and Children First's site.
And here it is on Bookshop.org. This site gives some of the money back to independent bookstores!
And apparently you can also get it from Apple. In what I presume is a digital version. Hmmm. I haven't seen this yet, so don't know how legible it will be.
Soon I'll announce my big Virtual Tour. I'm doing a bunch of events with some lovely interlocutors–all via Zoom from my basement, alas. But still.
March 30th, 2021
Another instructional video. The Secret to Superhuman Strength, # 33.
March 11th, 2021
The second in my series of instructional videos, "The Secret to Superhuman Strength." I've been backcountry skiing with my friend Sally for 13 years now–she is my inspiration.