Dykes to Watch Out For
Read more about all the Dykes to Watch Out For books.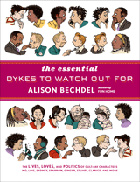 Browse the archives of select Dykes to Watch Out For strips

The Daily Distress was published as a promotional gimmicky thing for The Essential DTWOF. The articles in it were contributed by readers of this blog.
I'm too shiftless to answer all my reader e-mail, but if you have a particularly probing and pertinent comment or question, I'll post it here, along with my puerile, provoking reply.
Trivia? Random data? Timeless artifacts of cultural history?
You decide.