March 12th, 2013
Sorry, I have completely gone off the radar.
I had a tumultuous and ultimately very frustrating spate of travel last week which I keep trying to find a way to narrate here on the blog. All I've managed so far is this sketchy map.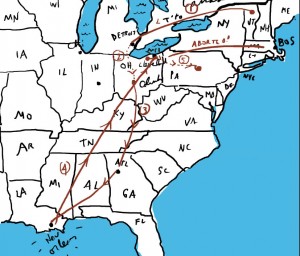 On Monday March 3rd, I was set to fly from VT to Columbus Ohio, to Otterbein University where I had classes and a public talk scheduled all day Tuesday. Then on Wednesday, I would fly from Columbus to New Orleans, to speak at Tulane University. Then on Thursday, fly vertically cross-country from New Orleans to Cleveland, to do a talk at my alma mater, Oberlin College. Then on Friday, fly from Cleveland to Boston, for an afternoon talk with Jeanette Winterson at the big giant writer's conference AWP. I had been terribly excited about that event for months and was looking forward to having a conversation with this literary titan about our respective mother memoirs—my book Are You My Mother? And her book Why Be Happy When You Can Be Normal?
Hm. Both of those titles are questions, one of many convergences that I noticed as I was poring over JW's books for the past several weeks—not just Why Be Happy, but its fictional forerunner from 1985, the novel Oranges Are Not The Only Fruit–an account of JW's childhood being raised by Pentecostal evangelists who adopted her in the UK in the 1960s.
Well the short story is, my travel was beset with delays and detours all week. My first flight, from Burlington VT to Detroit, took off five hours late. I missed my connection to Columbus. Fueled with claustrophobic frustration, I decided to rent a car and drive there from Detroit, in the middle of the night, rather than wait for a morning flight. That worked out okay, and I spent a nice day at Otterbein University. But Wednesday morning, my flight to New Orleans was also delayed. I managed to squeak in in time to meet with a class, do a tv interview about the freaking Bechdel Test, have dinner with students, then do a public talk and booksigning. I was looking forward to getting a little more sleep that night, but when I woke at 5am to pee I saw a note shoved under my door recommending that I get to the airport TWO hours, not just ONE hour early. That meant calling the car service and rescheduling, and of course after that I could not manage to get back to sleep. Travel is so brutal. Why do we live like this? In an increasingly depleted state, I arrived at the New Orleans airport in plenty of time, only to find my flight to Cleveland delayed.
But I squeaked in there, too–just in time to get called to meet the President of the college! He wanted to say hello, which was a great honor of course but a little nervewracking. I couldn't get over a feeling of being summoned to the principal's office. Plus there have been a string of disturbing hate incidents on campus, which I felt spectacularly unable to address in any productive way.
I was becoming progressively more and exhausted. Over the course of the week I was checking in with my mom each day—she's been sick with a virus. "I have what the Queen has," she reported. Every day I hoped to find her improving, but in fact, each time she sounded worse and worse. When I called her from the motel in Oberlin, she said, "When are you done with this trip?" and I realized that meant, "When can you get here?" So I told her I could be at her place in PA on Saturday night, as soon as I did my Boston event with JW at AWP.
After that conversation, and some quick recalibration of my travel plans, I had dinner with some Oberlin students. When we all sat down, they introduced themselves with their names and "pronoun declarations." One preferred, "She, Her, Hers." Another, "They, Them, Theirs." By this point I felt like my brain was on frappée. They were all very charming and earnest, but I could hardly process what they were saying. "What parts of speech are those?" was all I managed to ask. After dinner I did my talk to a pleasantly full room, which was nice, and thanks to President Krislov, who arranged it, met my old drawing professor John Pearson and his wife Audra Skuodos for a drink. That was quite lovely, but sapped the very last of my introverted energy cells. I returned, exhausted, to the Oberlin Inn—which coincidentally was the last place I saw my father alive, when he paid me a visit during the spring of my junior year of college.
Next morning I got up and packed for the last leg to Boston. As I was doing so I had this disconcerting text exchange with my friend Sarah, who was already at the AWP conference there: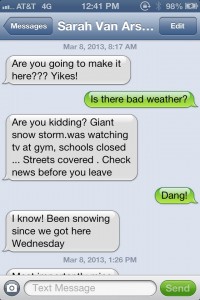 Boston can handle snow, I thought, and proceeded on my way to the Cleveland airport. I was still reading Why Be Happy, and making notes for my conversation with Winterson, and tweaking the presentation I would do, as I waited for my flight to take off. There were a few delays, then they had us all line up to board, then they had us sit down again. Then they dealt the fatal blow—the flight was cancelled. There was too much wind and snow in Boston to land.
I stood in a rebooking line for over an hour…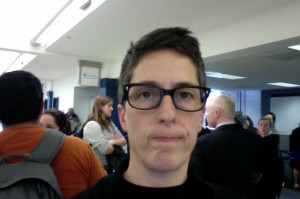 …but it was rapidly becoming clear that I would miss the talk with Jeanette Winterson. I had a very hard time processing this information. I was so geared up for it, and had friends who were going to be there. My girlfriend Holly was in fact on her way to Boston in the car to meet me. But no. There was no way to get to Boston in time, and no way to reschedule the talk.
I had been working on a list of topics to discuss with Jeanette. Fact and fiction, the role of literature in our respective families, Jeanette's confident voice and my self-doubting voice, and how those were traces of our mothers…forget it. There was not going to be a conversation.
In fact, it started to seem absurd to bother continuing on to Boston. Why fly there at 10pm, long after Jeanette had finished handling our session (splendidly, no doubt) on her own? I was only 5 hours from my mother's house. I might as well rent another car—I was getting pretty efficient at this—and just head to her place. Through numerous conversations with Holly, we determined that she too would change course. We both started driving toward Central PA. Here is Holly's photo, driving west on Rt. 80 in the afternoon.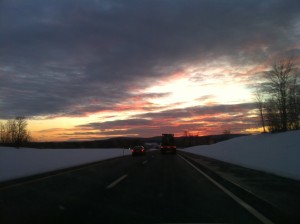 Here is my photo at about the same time, heading east.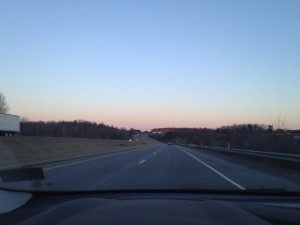 There was no sign, as we converged, of any massive snowstorm. The sky was pellucid.
As I drove East, I watched the clock. At 4:30 Jeanette would be taking the stage without me. I can't quite express how frustrating and disorienting it was to miss this event I had been so intent on for so many months.
Late Friday night, Hol and I met in PA at my mom's house. My mother is doing rather better. We have all been spending a lot of time in big box stores, trying to find edible food. Here is Holly at the absolute nadir of our shopping experience. Packaged apple slices. What sort of abomination is that?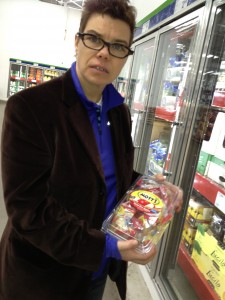 And one last thing…there's something kind of …something… about missing a discussion of mother memoirs to spend time with one's actual mother.
okay! another longer-than 140 character post. Sorry about that.