October 8th, 2013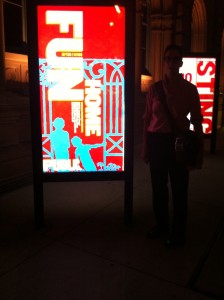 I am still trying to figure out how to describe the surreal experience of seeing my memoir Fun Home, and thus my real life childhood and family, turned into a musical. I have not been closely involved in the evolution of this thing but have seen two versions of it in the past couple of years. I could tell it was amazing, but I also knew that I couldn't possibly have any objectivity about such a project. And I could also see that a musical is a staggeringly complex, collaborative behemoth, entailing levels of creative risk and patience that are unthinkable to me.
It's still in previews at The Public Theater. The creative team (Sam Gold, director; Jeanine Tesori, composer; Lisa Kron, writer and lyricist) are still tweaking things, and the actors have to keep learning all these constant changes. But it will at long last take a final form and open on October 22nd. I saw it last weekend. It's hard, as I say, for me to describe this experience. There are two parts—one, my own personal emotional response to seeing what feels like a very faithful representation of my family come to life on the stage. And then there's the other part which is not quite separate from the first part because my parents already felt like fictional characters to me—and that part is just how beautiful this play is as an aesthetic experience, how neatly it fits together and how deep its own emotional resonance is.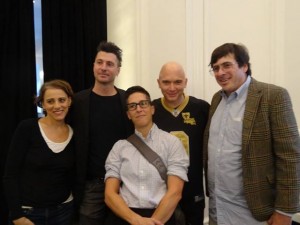 Here's a picture of me and my real life brothers with the stage version of our parents–Judy Kuhn and Michael Cerveris. It's so odd.
But the play is totally worth seeing if you can manage it. Here's the Public Theater's calendar where you can click through to get tickets. For previews shows, there's a discount code: ALISON.