March 6th, 2015
Last week, four of the actors in Fun Home made a trek to my home town just before rehearsals for the play began. Bizarrely, the house I grew up in is available for rental on a website called HomeAway. So the actors stayed there one night, and the night before, Hol and I stayed there with my brother Christian. I wasn't sure I'd be up for actually sleeping in the house, but in the end it felt fine. Though very strange. Here we are next day with the actors—Emily Skeggs, Joel Perez, Beth Malone, and Michael Cerveris.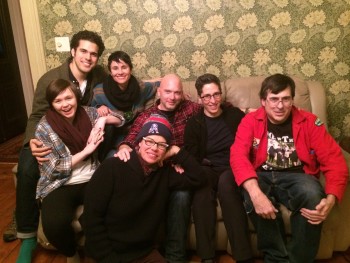 Now I am about to head to Austin to the South By Southwest festival. I've never been to it, and am feeling overwhelmed already. I'm on this panel about storytelling with the amazing Maria Hinojosa and the filmmaker Joshua Oppenheimer (The Act of Killing), so if you happen to be at the festival, please come. Though there are so many exciting sounding panels, I don't know how anyone can commit to just one at a time.
Here are a few out of the many hundreds: The Birth of Korean Cool. Bringing the Flying Car into Reality. Burning Man Meetup. When Kids Design Drones. Robot Petting Zoo. Hacking the Brain. SADvertising: Why Tears are the New Tactic. Why Does the Internet Hate Women? Why Feminism is Winning the Web. And, Screw Fuck No! Say Shit Yeah!
Well, if I make it out of SXSW, then I head to NYC to do this event at the Guggenheim with the creative team of the Fun Home musical, on Sunday March 15.
Okay, that's about it. Oh. Here I am taking a bath in my childhood bathtub.