DTWOF Trivia Answers
Questions for Feb 2010:
1] What is Mo's full (first, middle, last) name?
Monica Constance Testa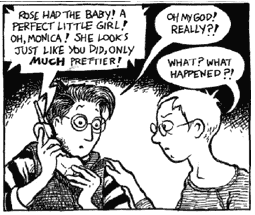 #432- trite and true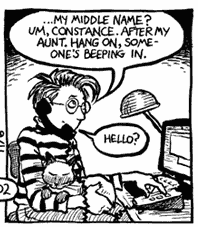 #402 – The Ambassadors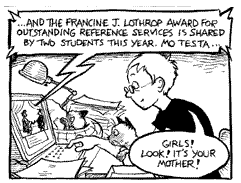 #466 – what's all this then
2] Name as many of Mo's relatives as you can.
Father: Ed
Mother: Virginia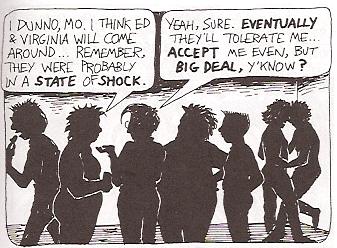 #43- Familiar Terms
Brother: Scott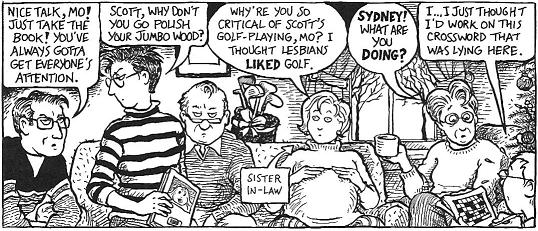 #302 – The Drama of the Gifted Child
Sister-in-law: Rose
(sorry, no known name for Mo's neice)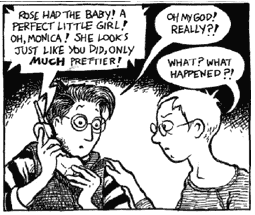 #432- trite and true
Aunt: Constance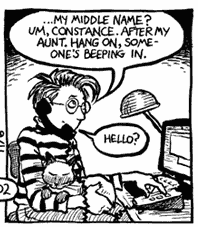 #402 – The Ambassadors
3] On what day of the week did Mo and Harriet first say "I love you"?
Sunday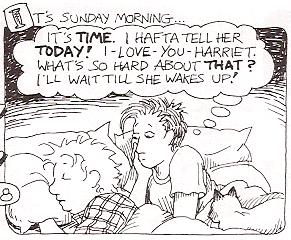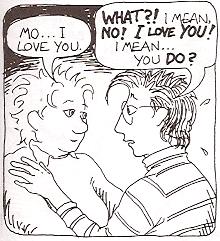 #48- three little words
Questions for Mar 2010:
4] Name a famous ("real world") writer who has given a reading at Madwimmin's. When did the reading happen?
Adrienne Rich, 1986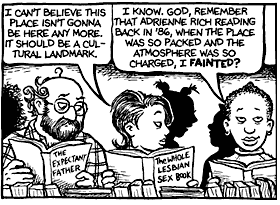 #401- decline & fall
5] What is a "code blue"?
A customer browsing for, um, the wrong reason.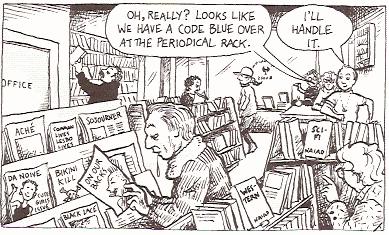 #155- Cultural Exchange

N.B. Not to be confused with "Code Pink"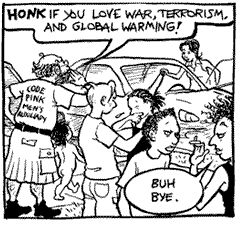 #470- Zoo Story
6] What is the (approximate?) street address of Madwimmin's?
Next door to 249 Barnes Ave. (We did say "approximate"…)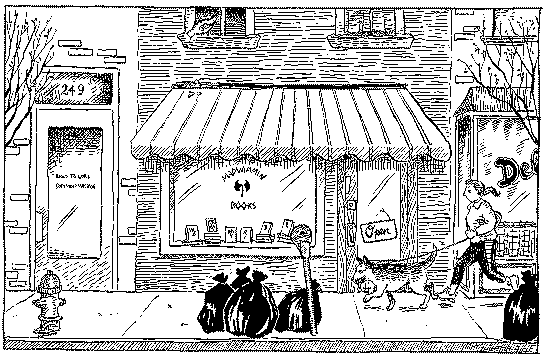 From "demographic rift" published in "Split-Level DTWOF"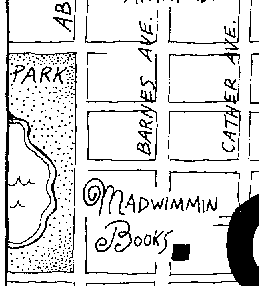 From title page of "demographic rift" published in "Split-Level DTWOT"
(Map also appears in the end papers to "Essential DTWOF"
Questions for Apr 2010:
7] What was the topic of Ginger's PhD Thesis?
Historical trends in dominant-culture criticism of Afro-American literature with a focus on the critical response to the influence of the oral tradition in contemporary fiction by black women



#35- Close Encounter
8] Which Star Trek episode is Sparrow's favorite?
The one "…where Spock gets sprayed with alien spores that make him fall in love"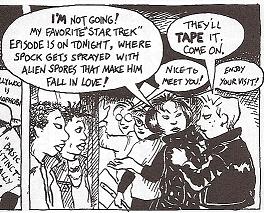 #134- Alone at Last
9] What was the name of Lois's "Girl Next Door" as she was growing up?
Mary Jane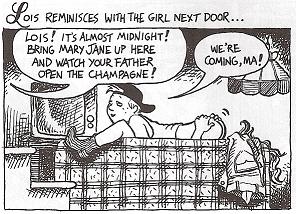 #152- No Place Like Home
10] What is the name of Stuart's Blog?
subversive parenting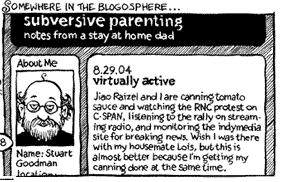 #448- power to the people
Questions for May2010:
11] After whom was Raffi named?
After Toni's Grandmother Rafaela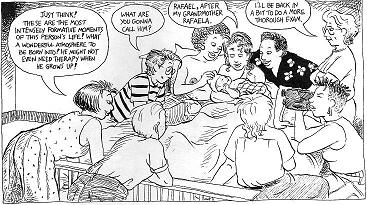 From "flesh & blood" (in "SPAWN of DTWOF")
12] When/how was Jiao Raizel almost arrested?
Anti-Iraq Invasion March/Fell asleep at the die-in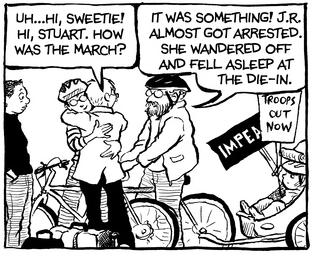 #507- Secrets and Spies
13] When the pregnant Toni felt the (unborn) Raffi move, to what did Mo compare the experience?
"…that scene in 'Alien'…"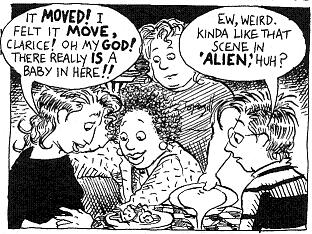 #153- Say the Right Thing
14] What was Raffi's first word?
um… well, see for yourself…


#190- unminced words
Questions for Jun2010:
Abbreviations and Acronyms. Please Identify:
15] LABIA
Lesbian Artists Brazenly Instigating Action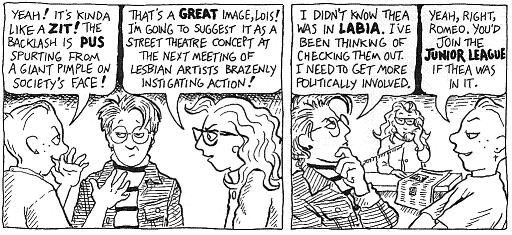 #159- Through a Glass, Hardly
16] LUST
Leaky Underground Storage Tank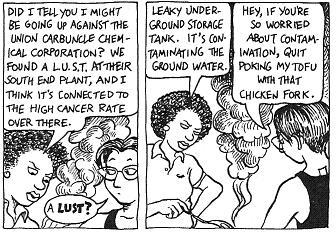 #195- No Picnic
17] JLQT
Journal of Ludicrous Queer Theory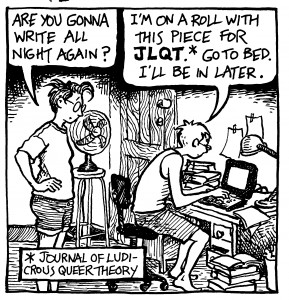 #316- idle hands

Back to DTWOF Trivia Page.