September 25th, 2014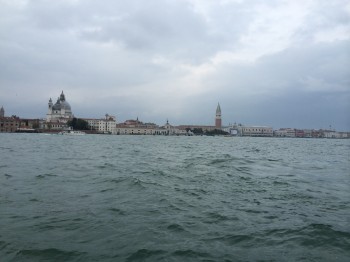 Well Venice was pretty amazing. I am a bad traveler and did not do much research beforehand. I know very little of the history there, really, political or art historical or literary. Except for Patricia Highsmith's The Talented Mr. Ripley, and Those Who Walk Away which have given me such vivid impressions of the city. I kept wanting to know where her protagonists had stayed…but I have had such terrible wifi on this journey, I can't look anything up. It's hard not having that external memory–I really find it difficult to function without it. Anyhow, I couldn't get excited about Henry James or freaking Titian. I just liked walking along all those tiny wending canals and imagining Tom Ripley having a panic attack around the next corner.
Also, even though everyone had warned me about the tourists, I somehow didn't believe it until I was caught up in the insane throng. It was like being in Las Vegas, except everything was real. And people were not so drunk and women were not walking around dressed like prostitutes…uh… okay, it was really nothing like Las Vegas but it was a bit sad nonetheless. Yet there Hol and I were jostling along with everyone. One cool thing we stumbled onto that was practically empty, though, was this Hiroshige show at the Palazzo Grimani.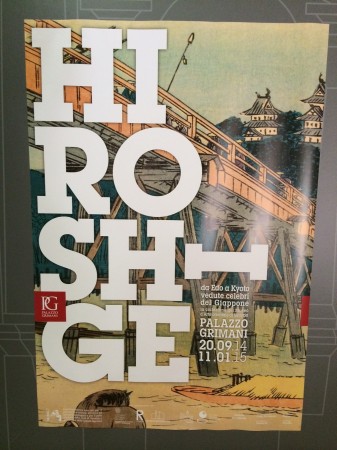 Hiroshige was a bit younger than Hokusai, and maybe a little more conservative and not quite as brilliant, but his woodblock prints are breathtaking and very comic book-like.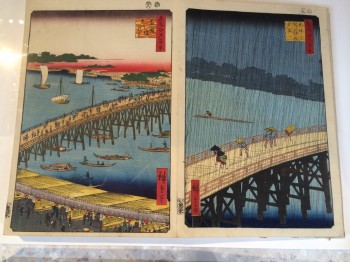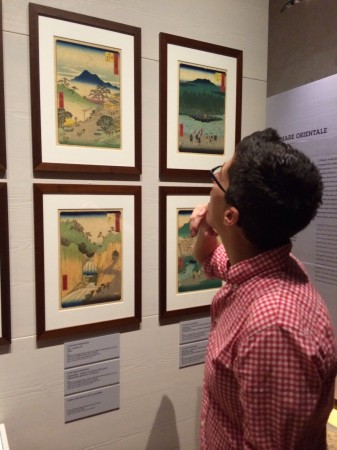 Look how he drew these cherry blossoms for godsakes.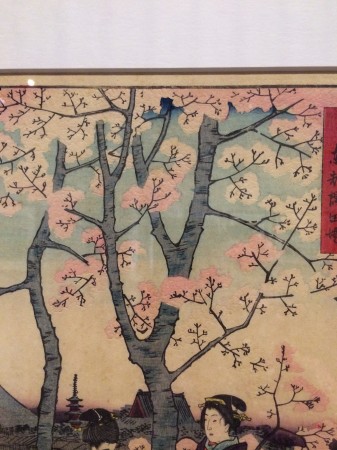 Then we did this totally corny thing. Went to a Vivaldi concert of the Four Seasons in some church. It wasn't great, and the audience was really confused and clapping when they shouldn't and not clapping when they should and the musicians were rolling their eyes at each other. But these four well-set-up gentlemen in front of us seemed to be enjoying themselves so maybe it wasn't so dorky after all.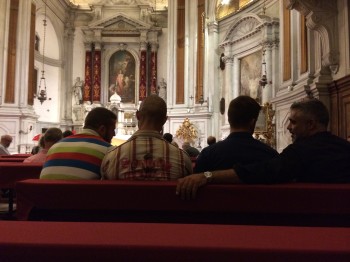 Everything is so crooked and leaning and off center…I guess you can't tell from the photo that that tower is completely askew. Hol is copying it.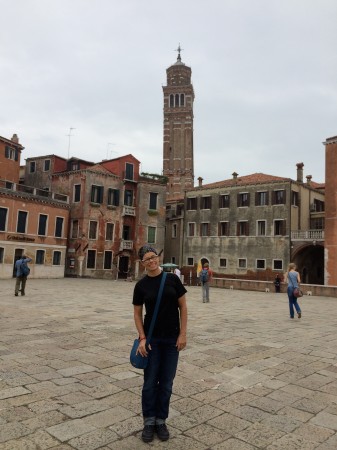 Here is a lovely view of a canal obstructed by someone selling trite drawings of views of canals.
Another cool thing was the Peggy Guggenheim Museum. We visited  in a downpour, which slightly reduced the madding crowds. Here I am on her front porch…deck…dock? With a Calder.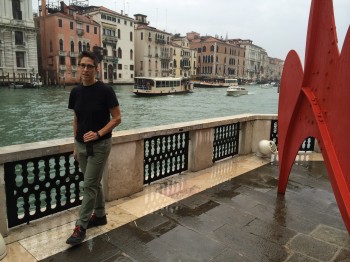 Well that's about all I have to report. We did not ride in a gondola. But I did spring for a water taxi to go to the train station. When we arrived, we had schlepped onto a vaporetto with all our suitcases and about 4 thousand people and it took forever. But leaving the city, the water taxi ride on the Grand Canal was great fun and totally worth the money.
September 25th, 2014
Permalink: venice