July 17th, 2014 | Uncategorized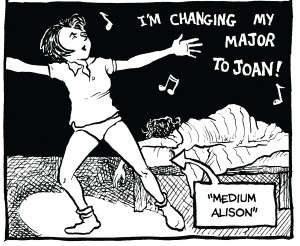 I did a cartoon recently for the Cartoon Issue of my local alternative weekly in Vermont, Seven Days. It's about the experience of seeing my book Fun Home turned into a musical. Well, it's about a very small part of that process–to convey the whole bizarre experience in all its complexity would take a book. This is just a little essay. Every year Seven Days does an all-cartoon issue—they have journalists work with cartoonists and run all these great visual stories.
Also, here's how to pronounce my name, in case you ever need to know. That link will take you to a site called Teaching Books. They have these audio links of all different authors telling stories about their names. Find your favorites here.