January 15th, 2014 | Uncategorized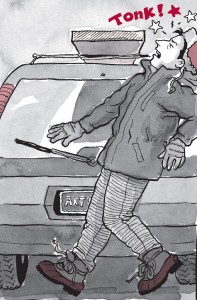 I have to make a new post here because it's been two months since the last one, and the comments shut off after two months, otherwise they just attract spam. But I have absolutely nothing to say at the moment. So it occurred to me to post an old datebook entry from a nice round number of years ago—thirty. Here is what I was doing on Sunday, January 15, 1984, when I was 23:
Woke at 10 and stayed abed until 11. Went out for a run [in Prospect Park]. Road slippery and unplowed. Great run. Only one lap, but much energy. Then I went out and skied for while. Went down some hills. Fun. Home. Ate. Went to sleep for a while. Played at my desk and listened to my digital Bach record. Was supposed to do drawing work but didn't. [My roommate] cooked curried eggplant. Then we played Scrabble and quit. Then we made gross brownies. Played at my desk more. Read old journals from 1980 and got depressed. Tintin antidote. Sleep.
I was puzzled by the "digital Bach record." This was before the era of CDs. At first I thought maybe I was referring to one of those Bach-on-synthesizer albums. But by backtracking a few days I see that I had recently purchased "a record of Bach Orchestral Suites. Digital!" I guess digital recording was a new exciting thing in 1984. Of course the funniest part of this old journal entry is my note that I had spent the evening reading old journal entries.
Hmmm. For a long time I've had this idea for a project where I examined what I was doing on a particular day of the year over a span of different years. To see what changes and what doesn't. I guess I've always had a sort of philosophical interest in whether we remain the same person, the same "self" over time. In college I felt disturbed but also strangely excited by Hume's idea that there is no unified, ongoing self, that we're just bundles of perceptions which of course are constantly in flux. I often feel like my "self" is a problem, a source of pain, a thing I'm stuck in. As evidenced by all this obsessive diary-keeping, and the re-reading of diary entries, and my midlife career shift of reworking my old diary entries into memoirs. And now this recursive blog post.
I wonder if I will ever exorcise the need to keep such close tabs on myself? Rather than get to work right now (although I can make the argument that this is my work), I'm going to look up a few more January 15ths, and post them here as an experiment. Am I the same person I was on these earlier dates? I leave it to you.
Tuesday Jan. 15, 2002 (age 41)
(this one actually made its way into my memoir Are You My Mother?)
I'm on a plane, flying to Sacramento. I just wanted to note an interesting thing that happened yesterday. I went to the lumber yard to buy a board to make a ramp for Julia–she's been limping, and I wanted to make the stairs easier. I was hoping to get an eight-foot board, which I could have just stuck in the car but they only had a twelve-foot one. So I had to strap it on the roof, and it hung way off the front and back. It was cold and I was struggling and my hands were getting numb and I was in a hurry because I wanted to get some skiing in at Bolton.
Finally, I got it on, and walked briskly around the car to the driver's side–straight into the board. I got it right between the eyes. It was stunning. The top edge cut my forehead, and my nose is scraped and bruised. I was afraid I might get a black eye, but that has failed to materialize. Still, I look quite thuggish and disreputable.But since I've been reading Freud on the Psychopathology of Everyday Life, I can't help but wonder if there might be something going on besides pure accident.
Monday Jan. 15, 1973 (age 12)
I got an 83 on my English test. So far my average is about 84. Bleah! Miami won the Superbowl. BooBooHooHoo (?) I was for Redskins. After school, we went downtown. I got a pair of jeans and a gigantic gym suit. I practiced [the piano]. We took down the Christmas tree. I got in a big box and handed out bags [the plastic bags we kept the tree ornaments in]. I washed my hair and my clothes.
Thursday 15 January, 1981 (age 20)
I don't really want to write. I have been putting it off. Am at low ebb. Self-disgust stage of cycle. Mediocre mediocre mediocre.
1. Mediocre lover.
Things have palled with [X]…or do I just think so?
Pall: from appall 1. to become vapid, dull or insipid. 2. To become satiated or cloyed, as the stomach.
Cloy: to satisfy or fill to excess. To cause surfeit.
I don't know. She's in some kind of mood too, I guess. Kind of coming down after the high of December, I suppose. Both of us. Anyhow..no more of that awe, that incredible feeling of tenderness. Just mediocre. We hardly look at each other. Why does this happen? [long passage about bad sex that I will not try your patience with (any more than I am already trying it)]
2. Mediocre student.
UGH. C on Greek final. B+ on Hood's slides. Just wrote an INSANE paper for Surrealism. Long, hyper-intellectual, pointless. A detailed logical argument in order to make a vague, debatable, artistic point. Ludicrous. I am DUMB. I am not even SMART.
3. Mediocre worker.
I almost got fired from the library for showing Tom how to input obscene words as books. Why did I do that? [My boss] thinks I'm a jerk now. I fucked off all semester there, didn't do anything. What a jerk I am.
4. Mediocre artist.
My stuff has no impact. I have no motivation. Those text-sculpture pieces I did last semester…they are BORING! TRIVIAL! Over-processed! SHIT. And I have to materialize some sort of portfolio soon. Soon?! IMMEDIATELY. Goddamn shit fuck
Tuesday January 15, 1974 (age 13)
We had gym. We started volleyball. I finished my clay devil in art. Now I have to glaze and fire it. Hokay. Mr. Weaver talks too much. YA KNOW? I had my [piano] lesson. It was pretty good. When we drove into Woolrich, we saw [my friend/my piano teacher's son] walking home from the bus, and he was wearing the jeans he got like mine. He went in the house and changed them! While I ate my orange out front. MAN! He gets everything I do. I'M ANGRY. Dad dropped me off and went to Williamsport. He was late and I had to eat with [my piano teacher's family].
Saturday Jan. 15, 1972 (age 11)
We watched cartoons. The men came to put in the carpet. Chris got the (illegible). We went to (illegible) We tried to get (illegible) Snuffy's bucket, but it broke. We had fondue. We watched T.V. The (illegible) was nice. Dad & I went to the store. It's cold out.
Sunday Jan. 15, 1995 (age 34)
Hell night at [Y's]! Really windy out, blowing musty attic/wall smell into [Y's) room through gaps in the baseboards. Such a rickety house! Y goes to sleep downstairs. I manage to doze (badly) till 12:30. Then me & Y cooked a BIG BRUNCH. Banana-walnut pancakes, fake sausage, grapefruit….I left at 7pm and came home. Cooked and ate and fucked with computer. Stayed up really late answering letters and stuff, putting stuff together for some comics shows. Then I worked on planning my dinner party. To bed at 6am. Read Middlemarch and tried to sleep but kept getting my party plans confused with the characters in Middlemarch.
Friday Jan. 18, 1985 (age 24)
(okay, this is not the 15th. I didn't make an entry on the 15th that year. But this one on the 18th is so apposite I must include it.)
Sitting trying to organize my affairs in the Northampton Public Library. From a book review about a new book on Virginia Woolf in Wednesday's Times:
"What a disgraceful lapse," Woolf once chided herself. "Nothing added to my disquisition, & life allowed to waste like a tap left running. Eleven days unrecorded."
(this Woolf quote also made its way into my book Are You My Mother?)
Saturday 15 January, 2011 (age 50)
Had a long talk with [my agent], telling her about [a business conversation I'd had], then listening to her take on it.
[My theatrical agent] emailed, saying he thought [the conversation] had gone well. I feel extremely exhausted by all this. [My agent] called again later, while I was out skiing. I stood in the cold dark woods listening to her and trying to stiffen my spine for [yet another business conversation].
That will be happening at 1 today. Before then, I need to hammer out a script for what I will say. I was hoping to just get back to work on chapter 6 [of Are You My Mother?] and do this later, but now I'm doing it anyway. No. Don't let this completely derail me. Do my own work first. Then prepare for the conversation.
Woke with a migraine. I'm stewing in my own juices, my own feedback loop…can't get out, can't move forward…stuck on this spread about mirroring, freud's "narcissistic or anaclitic" desire model…Trying somehow to summarize my entire psychic/erotic development in two pages.