November 15th, 2013 | Uncategorized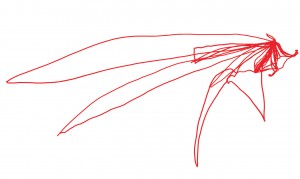 This is the vector of my life since January. I have been having a really crazy, intense, draining, grief-stricken, and surreal year. And in an attempt to orient myself again, I've been trying to figure out how to capture it all visually somehow. I've come up with this animated chart which was extraordinarily complicated to devise, involving Photoshop, iMovie, a graphic tablet, a screen casting app, and the stopwatch and Voice Memo apps on my phone. The resulting video has three layers. Time—the year elapses day by day. Space—the red line is me traveling hither and yon, mostly to Pennsylvania and back where first my mother dies, in May, and then, her partner Bob dies, in October. And in and around all of that awful, abysmal loss, I'm flying and driving all over the place for work stuff that I scheduled way before I knew anyone was going to die. The third layer of the video is my voice-over, trying to explain where I'm going and why.
The surreal element enters when Fun Home, the musical, opens at The Public Theater in October, to great acclaim. I've seen the play five times now. And I keep trying to come up with a way to describe the feeling of seeing this simulacrum of my book—and thus of my life—take shape on a stage, in song, embodied by supernaturally gifted actors. And I keep failing. But one metaphor that occurred to me today is that maybe it's kind of like getting a glimpse into a parallel universe that's just slightly out of synch with this one. Uh…and set to startlingly beautiful music.
The video ends with me here, today, in Vermont. "And now, it's now." To quote a line from Fun Home, the musical. (later note…the line from the play is, "And then, and then, it's now." Sorry I got that wrong.)