August 21st, 2014 | Uncategorized
I just heard that B.K.S. Iyengar died. Strangely, one of the things I've been doing over the past couple of weeks is making drawings of yoga poses. Here's me working on one last Thursday.
I studied Iyengar yoga in the late 1980s and early 90s, and have kept up a minimal practice ever since. Several years ago I got out Mr. Iyengar's book Light on Yoga, and started doing quick brush drawings based on the lovely black and white instructional photos of him in the book. It was very fun and freeing, and really loosened up my drawing. Now I have found my way back to a similar project. I started by doing giant life-size charcoal sketches of myself in various yoga poses. It's an interesting challenge to draw on this large scale, without preparatory sketches, just trying to draw from my whole body the way the pose feels.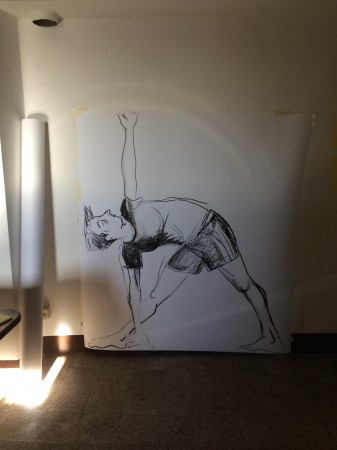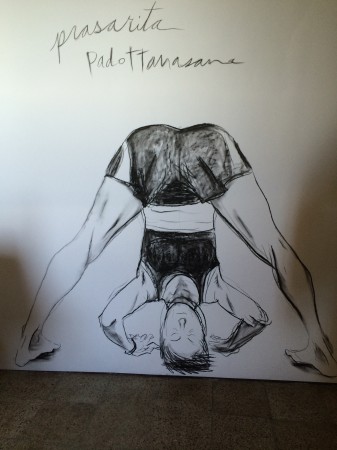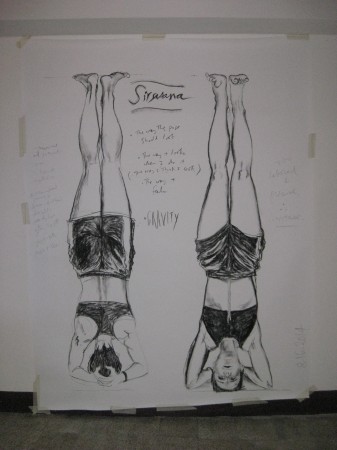 I haven't really thought this through intellectually…I guess it's something to do with the body as a signifier, as a sort of unmediated vessel of meaning. But mainly I have just experienced a lot of joy doing these poses, and I feel grateful to Iyengar for his carefully codified teaching methods. I've tried other kinds of yoga, but nothing else has ever felt quite as deep or precise.
After drawing myself in a few poses, I got some other people to do their favorite poses for me. I did a quick sketch, took some reference photos, then later made a more careful, but still quick and spontaneous ink drawing—not life size but still much larger than I am accustomed to drawing.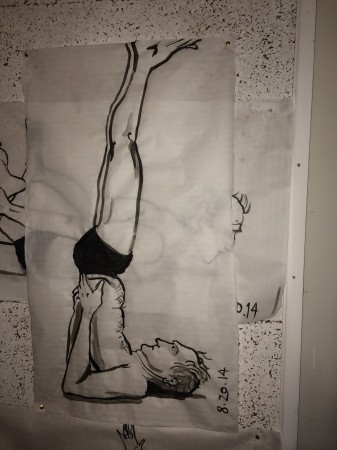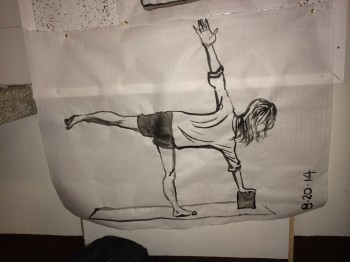 It's been a really fun and rewarding drawing project, plus I've been constantly googling images of B.K.S Iyengar doing the poses over the past week, since he is the gold standard. So it's especially strange to hear that he is gone.