August 6th, 2013 | Uncategorized
One of you wrote to ask me this. I have been getting concerned emails from various blog regulars about the disappearance of recent posts and the lack of any new ones. The disappearance is due to a problem my web host has been having. The lack of new posts is just due to my being busy and not having much to report. Here's something, though:
I just got this Oberlin College t-shirt in the mail. I think it was because I gave money to the alumni fund. But I really love it. In fact I am wearing it for the third day straight. I like the design, which is an image of one of the iconic "womb chairs" in the Oberlin College Library. But I also like the t-shirt itself. It fits perfectly. Most t-shirts don't, they grab or pull or bag or otherwise impinge on one.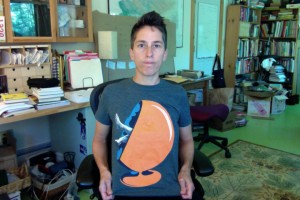 I guess I have reached some strange new phase of life, where I fret about t-shirt comfort and give money to my alma mater.