August 6th, 2013 | Uncategorized
The musical version of Fun Home, created by Jeanine Tesori (music) and Lisa Kron (book and lyrics) is opening for real this October at the Public Theater in NYC. Here's a picture of me last fall, during the workshop of the play, with Sydney Lucas, the girl who plays "Small Alison." Hearing her sing Lisa and Jeanine's song "Ring of Keys," based on page 118 of the book, is worth the price of admission.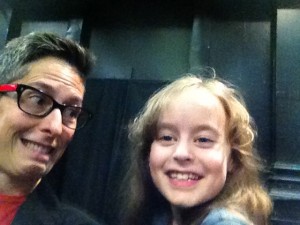 Here I am with all three Alisons, including Beth Malone (regular Alison), and Alexandra Socha (Medium Alison.)
Well, come see for yourself if you want. Tickets go on sale on August 8. Here's a link to Fun Home on the Public Theater's site.