August 15th, 2013 | Uncategorized
…from my mom's house. She has a mint condition Dykes to Watch Out For mouse pad that I'm gonna sell on eBay. It was one of the last items of merchandise I made in the mid-1990s, before I shut down my mail-order swag business.
It's got a hard plastic surface. The black rubber backing is a little discolored but otherwise fine. The design is a take-off on Norman Rockwell's "Chain of Gossip."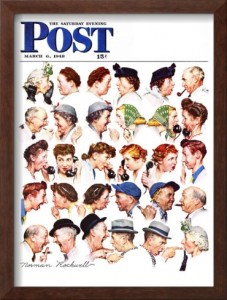 Which I stole again over a decade later for the cover of The Essential Dykes to Watch Out For.
I also just came across this picture of me in what strikes me as a bizarrely butch outfit for a baby girl circa 1962. What were my parents thinking?