March 3rd, 2014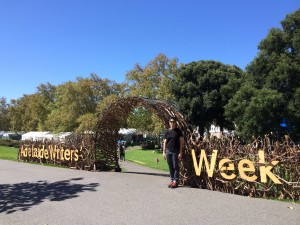 I can't believe I'm in Australia. I left frigid snowbound Vermont almost a week ago. Made a quick visit to Savannah GA, where I spoke at the annual Spring Break convention of Sigma Tau Delta, a college English honor society—English Majors Gone Wild.
Then Hol and I flew through Dallas to Brisbane, and from Brisbane to Adelaide. I'd been really dreading the long flight to Australia. I have actually been invited here a couple times before, and always declined because I couldn't imagine being confined to an airplane seat for 16 or 18 hours. But it turned out to be pretty pleasant. Crossing the International Date Line was confusing, but after two days I'm finally starting to get oriented. It's summer here, very hot, with a hard relentless sun. It's strange and magical to be so far from home, on the other side of the planet.
Just now I saw the night sky for the first time. There's a lot of light pollution so I couldn't be sure, but I think I saw the Southern Cross. And then across the sky I saw a very familiar yet slightly odd looking bunch of stars…Orion, upside down!
I've been at the Adelaide Writer's Festival where I've met a lot of wonderful people. Lovely Australian dykes and cartoonists. Today I did a talk with the puckish and super charming Rabih Alameddine, whose work I am ashamed to say I only recently discovered.
Tomorrow we're going to go see koalas. Koalas?! As I say, I can't believe it.
Then, Melbourne. And on to Wellington, for Writers Week at the New Zealand Festival.
March 3rd, 2014
Permalink: Oz