March 9th, 2014
We've been in New Zealand for two days now. It's too beautiful to bother trying to put into words. My first event was a trip to the small seaside town of Paekakariki in a van with the hilarious mad professor Terry Castle. Here's the scene outside the town hall where we spoke.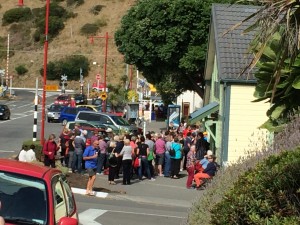 Terry's book The Professor is a collection of her brilliant personal/critical essays plus a memoir about her early days in the trenches of academia and lesbiana. We had a fun conversation…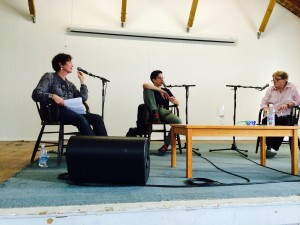 …then were feted by the lovely locals. This woman brought all her old DTWOF books to be signed.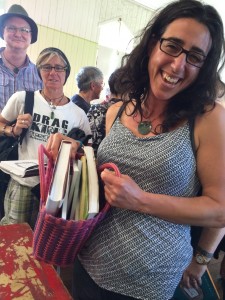 This one brought her pink brassiere, which she deftly removed without dislodging her t-shirt.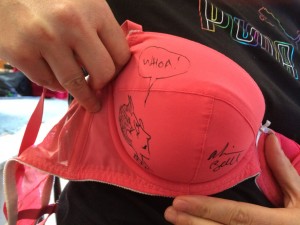 At the ensuing community potluck, Terry and I were presented with this astonishing cake.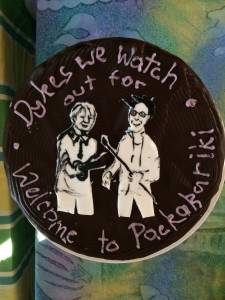 Here are Terry and Holly marveling at it.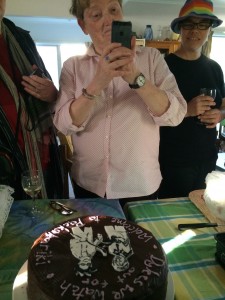 Here's the view from the house of our gracious hosts. How do people bear all this beauty?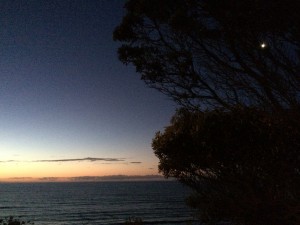 Today there was more book festival activity. I did a conversation onstage with Moira Clunie, who is a friend of the great NZ cartoonist Dylan Horrocks. He has a new book out called Incomplete Works, and I will see a panel he's on tomorrow morning. I love his work. It's very smart and the quality of his line is deeply pleasing.
It's very overwhelming being at events like this. So much going on, so many people. It's exhausting but also energizing.
And people are so kind! We also had a great potluck dinner in Adelaide, hosted by our new pals Sal and Mary. Here is Sal, the kangaroo whisperer. She took us to a wildlife park where we saw kangaroos, emu, dingoes, koalas, and all manner of strange beasts.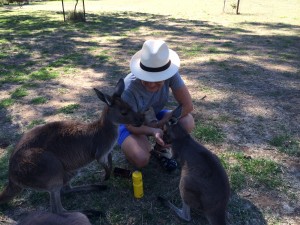 Here's I am feeding a kangaroo. A kangaroo for god's sake!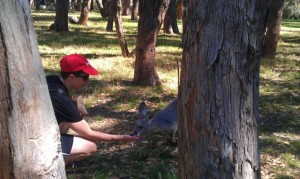 Here's a joey in its mother's pouch as they both lounge on the grass.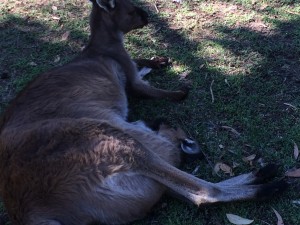 Well this is all rather disjointed. But it's the best I can do right now. Tomorrow New Zealand cartoonists and a trip to more botanical gardens. Oh. Here's my new dorky hat that I got at the Melbourne botanical gardens.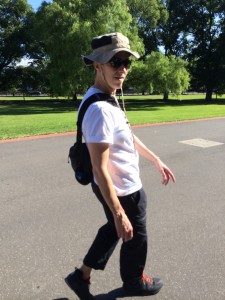 And here are some other photos I didn't manage to upload in Australia where the internet was so pricey. Me with the owners of the Hares and Hyenas bookstore.
And me in a photo these guys gave me that they took in 1997 at Book Expo America of Judith Katz, Nancy Bereano and me at the Firebrand Books booth. This is the pic where Hol says I look like an Amish preacher.